Click on each image to see the Business View.
Staff Recommended Handmade MAP
We also have information on sightseeing tailored to the seasons such as festivals and light ups. From famous sightseeing spot which can not be removed from Kyoto, deep local information is lots!
We are preparing about 20 kinds besides the 10 kinds introduced here.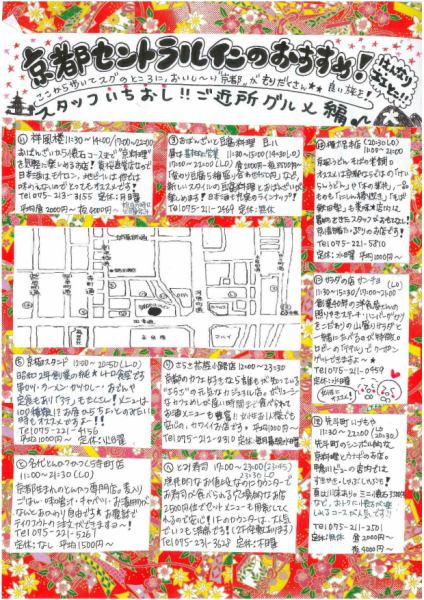 To accumulate!
CN Point 100 yen → 3 Point accumulated.
T-POINT Card 200 yen → 1 Point collected.

Use it!
CN Point 1000 Point → 500 yen We will cash back.
T-POINT Card 1 Point → 1 yen.

★Point membership card (Club Nets Card) is free of admission and annual fees.
★Granting Point, use is limited to reservations from the Official Kyoto Central-Inn website.
★CN (Clubnets) Point will be awarded 3 Point with a 100 yen rate.
★CN Point can be cashed back 500 yen per 1000 Point.
★T-POINT can also be used, but cannot be combined with CN Point.
★T-POINT will be given 1 Point for 200 yen of room charge.
★Room rate Please present at the front desk at the time of payment.
★Granting Point, use is only room rate. Other paid services are out of scope.
★T Card cannot be issued.